"I love biotechnology as it combines my love for technology, research and solving puzzles, and exploring the big mystery that is life."
Why did you study biotechnology?
I particularly love cancer research (cell signalling) as I think that we're in a race with the cancer (uncontrolled cell growth) to try to understand it, predict its moves, get ahead of it and stop it in its tracks. Personally, this field is unquestionably a worthwhile cause to dedicate my life to.
What was the best part of your time at UQ?
I chose to study at UQ for the following main reasons:
(1) Location – Australia is a great country for both studying and living in. Brisbane offers a fantastic mix of the concrete world and nature (gardens, beaches), which I find conducive to studying as well as mental peace and leisure. For an international student, Australia has great post-study work conditions as well!
(2) Rankings – UQ ranks highly internationally and within Australia, is multicultural, beautiful and offers opportunities outside academics. My extra-curricular activities were mostly centred on poetry and feminism. I joined the UQ Poetry Club, where I participated in the UQ Poetry Symposium SLAM!, and had my poems published in Semper Floreat, the UQ Union student magazine. I was also a part of the UQ Union Women's Collective. In particular, I enjoyed helping to organize the 'Feminist Fortnight' series of events.
(3) UQ's excellence in biotechnology – The MBiotech program offers a diverse range of fields in biotechnology to choose from and is flexible in nature. I studied molecular biology, bioinformatics, genetics, the intellectual property and quality management sides of biotechnology, and completed 2 research projects, all in 2 years. You can also choose to undertake an industry internship in firms like Patheon and Merck. Basically, UQ is well-connected to research institutes as well as biotech industries, so you can easily choose the preferred direction for your career.
What advice do you have for someone deciding how to start their career?
Study at UQ! It's a great university with plenty to offer, in a beautiful and safe location. The best part about it is the flexibility of programs, which enables students to experiment, if they wish, and choose what's best for them. It will give you valuable lessons for life. UQ opens doors to the rest of the world and is a fantastic institution to be associated with.
What are your plans for the future?
After I graduated, I took a short break to visit my family in my home country (India). Research is my calling, as I love asking questions and attempting to answer them. I have just commenced a PhD at UQ's Institute for Molecular Bioscience, and am looking forward to the challenges that this study will bring.
Profile published 2017, updated 2023.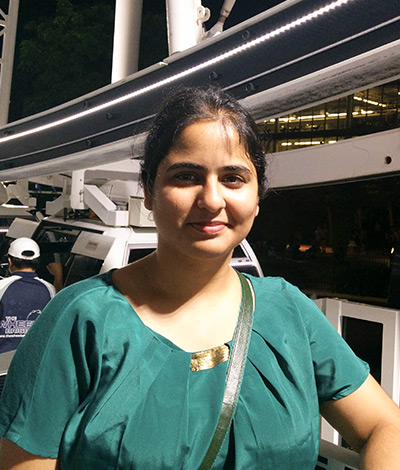 Suchita Gera
Job title
PhD Candidate
Institute for Molecular Bioscience, The University of Queensland
Qualification
Master of Biotechnology
Scholarships
PhD scholarships available – visit scholarships.uq.edu.au for details