"I enjoy working with people from different backgrounds because it helps me to learn skills beyond my own field."
What is your current role?
I am currently working part time at Boeing Research and Technology as a business operations specialist while also working for UQ's School of the Environment as a Science Ambassador.
Soon, I'll be starting a new role as an aquatic ecologist for the GHD Group. I'll be working in their aquatics team which involves a mixture of work in both fresh and marine ecosystems. This role involves a lot of fieldwork and I'm looking forward to the opportunity to be able to travel around Australia more.
What was the best part of your time at UQ?
I really enjoyed being part of the G-Unit, a team of passionate science students who help deliver a wide range of bespoke science engagement activities and learning immersions (including study tours) for high school students, under the leadership of Dr Gurion Ang.
I've helped facilitate ecology and genetics workshops for senior secondary school students on campus which has helped strengthened my communication skills as well as my confidence.
I also found being a tutor quite rewarding because I got to share my love of a particular subject with likeminded students. I'm still a Science Ambassador for UQ and I'm involved in a lot of different events that are generally centred around sharing my passion for science with others to encourage and inspire students to consider studying at UQ in the future.
What kind of work do you do as part of your job?
At Boeing Research and Technology, I help to develop new tools and technologies to be used by across Boeing. My responsibilities are varied, and include things like testing software for potential bugs, 3D visualisation of models, performing risk assessments of products, and many more project specific tasks. It's very fun to have such a diverse range of duties!
What is the best part of your current role?
One of my favourite aspects of my job is that I get to work with engineers, epidemiologists, psychologists and 3D artists. I enjoy working with people from different backgrounds because it helps me to learn skills beyond my own field.
What advice would you give to anyone considering studying at UQ?
My advice would be to go to UQ Open day with an open mind. Don't just go to the tents, get a brochure and leave. No! Instead, when you are there, ask as many questions to as many people as you possibly can. It sounds exhausting, but you will never get as good of an insight into life at UQ, than from walking around and meeting those who are studying at UQ and making the most of it.
Having been to these events myself, both as a future student and as a Science Ambassador, I truly feel that it is a golden opportunity to glimpse into what your life could be like at UQ. If you like what you see, and feel inspired by the students you meet, then it's probably a sign you will enjoy yourself.
Profile published 2023.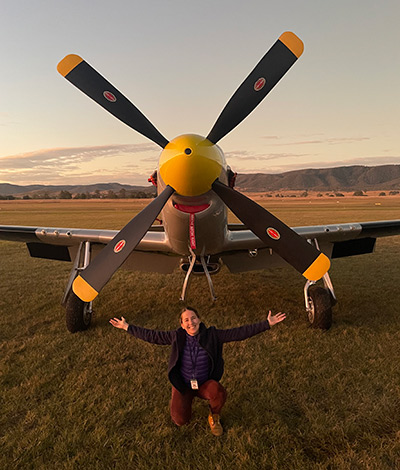 Sarah Hampson
Job title
Business Operations Specialist, Boeing Research and Technology
Qualification
Bachelor of Science (Honours) (Ecology and Conservation Biology)
Bachelors of Science / Arts