"I love knowing that my work is ultimately helping the long-term survival of an endangered species, the whale shark."
Why did you study marine science at UQ?
UQ is an internationally renowned institution that just happens to have a great marine science program and be in my home town of Brisbane – it was a no brainer!
What was the best part of your time at UQ?
I met and was inspired by some amazing teachers, academics and also fellow students. Being a mature-age student, I was worried that I would find it hard to fit in, but I was universally accepted and treated equally by lecturers and students alike. My favourite moment came when one of my fellow students learned that I was turning 40 on the day of our end of semester exam, and told me that she wanted to be just like me when she grew up!
What kind of work do you do as part of your job?
I am a marine biologist working with ECOCEAN, a not-for-profit, research, conservation and educational organisation that uses the world's biggest fish, the charismatic whale shark, to engage the public in marine conservation and students in STEM learning.
Because it is a small organisation, I have been involved in all aspects of ECOCEAN's work, including:
ongoing entry and processing of photographic data in the Wildbook (photographic identification database)
fieldwork and data collection at Ningaloo Reef and Shark Bay, W.A. and in the Maldives
data analysis and scientific manuscript preparation
fundraising, grant application writing, public outreach and general administration
Plus, I have contributed to major research projects undertaken by ECOCEAN.
How did your UQ study help you in your career?
My education at UQ prepared me to undertake research and helped me develop other skills such as time management, meeting deadlines and critical thinking, that are needed to successfully manage a not-for-profit organisation.
What advice do you have for someone deciding how to start their career?
Find something you love and do it!
I studied an Arts degree, then travelled and worked for a while in a range of miscellaneous jobs, before deciding to return to university and study something I'm really passionate about – marine science. Going back to university was the best thing I ever did.
I would encourage anyone, no matter their age, to follow their dreams and pursue further study. Although it can be stressful, enjoy the journey and take advantage of all the great facilities, opportunities and support that are on offer at UQ.
What are your plans for the future?
I am currently participating in the Homeward Bound project which will give me the opportunity to develop my leadership skills and be a part of a global collaboration of women in science with a vision to change the way we care for the planet. I plan to use this experience to help shape my future and the future of our planet, by influencing policy and decision-making through my research.
I also have a dream to develop an educational program that would introduce children from disadvantaged backgrounds to the marine environment and teach them about how to care for the oceans and the incredible diversity of life they hold.
Profile published 2017, updated 2023.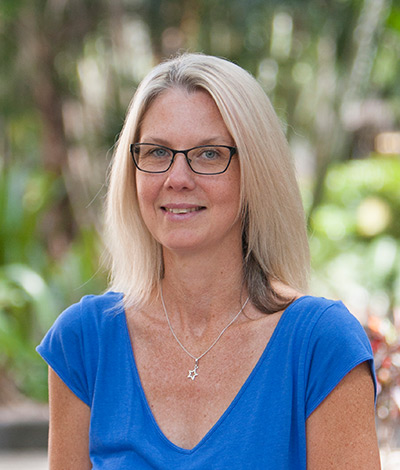 Samantha Reynolds
Job title
Marine Biologist, ECOCEAN
Salary range
Minimum: Volunteer
Maximum: $75,000
Average: $60,000
Qualifications
Bachelor of Science (Honours) (Marine Science)
Bachelor of Arts