"I feel so proud that I am positively contributing to better health outcomes for mankind through my research."
How did studying a Master of Biotechnology at UQ help get you where you are today?
Studying my Master of Biotechnology at UQ kicked off my career in biotechnology and played a vital role in helping me secure a role at Biocon Research Limited, one of the largest biotech companies in Bangalore.
This led to a research opportunity at the Biocon Bristol Myers Squibb Research Centre (BBRC) in Bangalore – a collaboration between global biopharmaceutical company Bristol Myers Squibb and Syngene International, a Biocon company.
I'm currently a research Associate at Aurigene Oncology Limited, a clinical stage biotech company committed to the discovery and development of novel and effective therapeutics for the treatment of cancer.
Why did you choose to study at UQ?
Australia has always been my dream country to experience due to its history, cultural diversity, unique wildlife, famous landmarks and attractions as well as it's highly regarded reputation for education. I choose to study at UQ because I was inspired by the university's core scientific contributions. Plus it's one of the oldest and well established universities in Australia.
What was the best part of your time at UQ?
I was able to complete my thesis research at Translational Research Institute under the supervision of Professor Ranjeny Thomas where I had the opportunity to contribute to research that was published in a renowned scientific journal – equipping me with valuable research skills and experience.
I also loved enjoying Australia's food culture and exploring the country with the friends I made during my time at UQ.
What kind of work do you do as part of your job?
As a biologist I'm involved in preclinical studies which are critical to screen cancer drugs in different animal models.
The work involves designing, executing, data interpretation and working closely with other departments to get the critical information that will help us to understand the oncology drugs.
I've been working in the biotech industry for more than 7 years now, and I feel so proud that I am positively contributing to better health outcomes for mankind through my research.
Profile published 2023.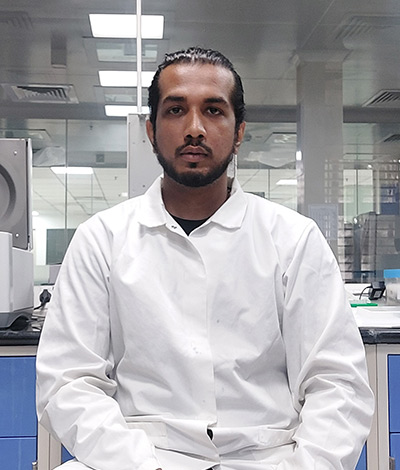 Sachin Mahadevaiah
Job title
Research Associate, Aurigene Oncology Limited, Bangalore, India
Qualification
Master of Biotechnology