"My passion is to ensure the sustainability of the wild caught fisheries on the Queensland Coast."
How did your UQ Science degree help get you where you are today?
I undertook a Bachelor of Science at UQ to academically pursue my interest and passion in sustainable fisheries because it was the best rated Brisbane university for sciences.
I soon realised that the most effective, true method of me accomplishing and pursuing my passion in alignment with my values was to do a front line role liasing directly with the stakeholders involved in the take of Queensland fish. I started as a Fisheries officer in 2017 and was recently promoted to an Investigator for the Queensland Boating and Fisheries Patrol in 2023.
A lot of the core and elective subjects during my studies provided foundations that I've been able to rely upon in my roles to date.
What was the best part of your time at UQ?
My most memorable experiences were the extended field trips to Fraser Island, inland Queensland and UQ's Research Station on Heron Island. During my time at UQ I got to meet some awesome people, including my current partner.
What kind of work do you do as part of your job?
My current role is to conduct complex investigations into unlawful fisheries practices off the coast of SEQ. This includes working directly with commercial and recreational fisherman, gathering evidence, interviewing suspects and putting matters through the courts.
The role is incredibly varied and my other duties include patrolling of waterways, release of marine life from shark control equipment, drone piloting, forensically extracting mobile devices and providing compliance advice to fisheries management and other executive functions of the department.
My team often works with UQ's Moreton Bay Research Station, and from time to time we engage the expertise of UQ professors for advice on fisheries management and zoological enquiries.
What is the best part of your job?
Not only do I contribute to ensuring the sustainability of Queensland's wild caught fisheries but I also get to enjoy my passion for boating.
I am a commercial coxswain that operates vessels across the whole state. We often get to undertake extended patrols between the NSW border and the Great Barrier Reef. I have seen so much of the coastline and I have had the opportunity to work across Queensland in places such as Mackay, Yeppoon, Gladstone, Brisbane, Redlands, Gold Coast and Warwick.
I've had a lot of variety in my current and previous roles as well as plenty of opportunities to upskill or cross-skill across the Department of Agriculture and Fisheries. I also enjoy the responsibility of developing complex surveillance plans and eventually catching and prosecuting/infringing the serious and intentional poachers.
Working on the frontline has given me a greater understanding of the wild caught fisheries of Queensland then I ever anticipated. In the future I may potentially return to academia and branch into the research division of Queensland Fisheries.
Profile published 2023.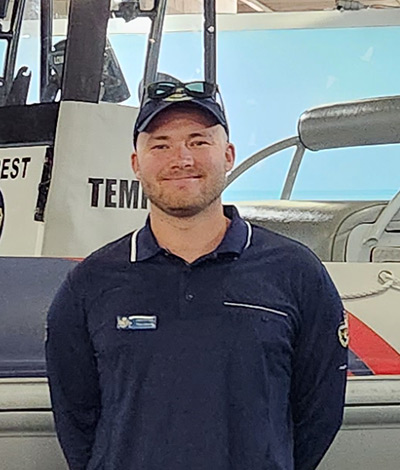 Paul Gibson
Job title
Investigator (Boating and Fisheries Patrol), Queensland Government Department of Agriculture and Fisheries
Qualification
Bachelor of Science (Marine Science)