"It is so rewarding when I get to see the tangible difference the courses I help deliver and create have on students' day-to-day work lives."
How did studying a Master of Food Science and Technology help get you where you are today?
During my Masters degree I undertook a 14-week internship with Sunny Queen Australia. After I graduated, I was offered a permanent role at the company and over the course of seven years I developed and honed my skills and expertise within the quality assurance and compliance space.
Now I'm back at my alma mater UQ, but this time as a trainer and assessor at UQ Skills.
My Masters degree equipped me with the essential technical knowledge and soft skills that empowered my success at Sunny Queen Australia, and now as an educator at UQ Skills.
What was the best part of your time at UQ?
I chose UQ as it is one of the most prestigious schools in the world for food science. The perception of higher studies in Australia is very favourable in my home country of India, and UQ is among the top in terms of preference.
My favourite memories from studying at UQ were meeting students from all over the world, enjoying the campus life in serene St Lucia, networking with professors (who were stoked to hear I've returned to work at UQ) and my research project under the guidance of Professor Eugeni Roura.
But most importantly, studying at UQ paved the path for me to become an Australian citizen – which has been one of my most rewarding moments in my life to date. It's been a long, uphill journey, but it all started with studying at UQ and my heart could burst into a million jacarandas!
What kind of work do you do as part of your job?
As a trainer and assessor at UQ Skills, I develop and deliver practical, industry-aligned training and education to future proof the food industry. I collaborate with my team at UQ Skills to create skill-based learning materials and assessment instruments that equip students with essential skills needed to succeed in careers within the food industry.
What is the best part of your job?
It is so rewarding when I get to see the tangible difference the courses I help deliver and create have on students' day-to-day work lives.
I'm currently working in a part-time, flexible role which allows me to prioritise my mental and physical health, and spend quality time with my family while making a significant contribution to the food industry and VET sector.
What advice would you offer to anyone thinking about studying at UQ?
Do your research! If like me prior to moving here, you don't know anyone at UQ or in Brisbane (or Australia), find professors on the UQ website or current students via LinkedIn. Email them introducing yourself. In my experience, I have found that most people are supportive and are more than happy to answer your questions.
UQ is a really supportive and inclusive university, and the calibre of studies is very high. It really opens doors for you!
Profile published 2023.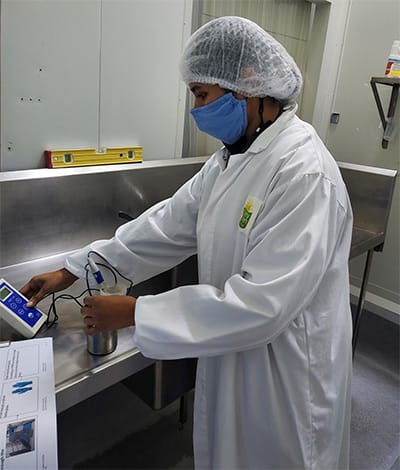 Mashhuda Raghav
Job title
Trainer and Assessor, UQ Skills
Qualification
Master of Food Science and Technology