"The opportunity to gain experience conducting environmental impact assessments and collaborating on sustainability projects, have honed my problem-solving skills and decision-making abilities."
How did studying Master of Environmental Management at UQ, help get you where you are today?
My Master of Environmental Management degree has been instrumental in shaping my career journey by providing me with a strong foundation in understanding and addressing complex environmental challenges. It equipped me with a comprehensive understanding of sustainability principles, natural resource management, and environmental policy, which have been invaluable in my current role as an Environmental Compliance Specialist.
Additionally, the practical experiences gained during my studies, such as conducting environmental impact assessments and collaborating on sustainability projects, have honed my problem-solving skills and decision-making abilities. These skills and knowledge have not only allowed me to excel in my current environmental position but also continue to drive my passion for making a positive impact on our planet's future.
What was the best part of your time at UQ?
During my time at UQ, I was fortunate to have a multitude of remarkable experiences that enriched both my academic and personal life. On the academic front, one of the highlights was the opportunity to work closely with esteemed professors and engage in cutting-edge research projects. These experiences not only deepened my knowledge but also honed my critical thinking and problem-solving skills, which I carry with me in my professional career today.
Professionally, UQ provided a platform for networking and skill-building that was invaluable. I attended various seminars, workshops, and conferences, where I met industry leaders and experts in my field. These interactions opened doors to internships and job opportunities that have been pivotal in my career progression.
On the social front, the vibrant campus life at UQ was a memorable experience. From participating in multicultural events to joining student clubs and organisations, I forged lifelong friendships with individuals from diverse backgrounds. These connections broadened my cultural horizons and exposed me to different perspectives on global issues.
Moreover, the beautiful campus itself, with its lush greenery and state-of-the-art facilities, provided a serene and conducive environment for learning and personal growth. Exploring the city of Brisbane and its surroundings, including its pristine beaches and natural wonders, added an extra layer of excitement to my time at UQ.
In retrospect, my journey at UQ was a transformative chapter in my life, filled with academic accomplishments, professional opportunities, and enriching social experiences that continue to shape my path and perspective today.
What kind of work do you do as part of your job?
My core responsibilities in my current role as an Environmental Compliance Specialist include:
Permitting and Compliance: I am responsible for obtaining the necessary air quality permits for the client's operations. This involves understanding and navigating complex regulatory frameworks, filling out permit applications, and ensuring that all permit conditions are met.
Regulatory Knowledge: Staying up-to-date with federal, state, and local air quality regulations is essential as I need to interpret and communicate these regulations to ensure my clients comply with them.
Emissions Tracking: Monitoring and reporting on air emissions from various sources within my clients' facility is a critical aspect of the role. This includes collecting data, calculating emissions, and preparing accurate emissions reports for regulatory agencies.
Before relocating to the United States, I worked as a policy specialist, assisting the Myanmar Government in reforming various policy agendas, including those related to natural resource governance, environmental management, and natural resource federalism.
What is the best part of your job?
I often work with a range of industries and facilities, each with its unique challenges and requirements. This diversity can make the job interesting and provide exposure to various sectors.
My current job involves complex regulatory frameworks and technical challenges. For those who enjoy problem-solving like myself, this role offers the opportunity to tackle intricate issues and find innovative solutions to meet compliance requirements.
What advice would you offer to anyone thinking about studying at UQ?
For anyone contemplating studying at UQ, I would offer the following advice: Embrace the opportunity wholeheartedly.
UQ is renowned for its academic excellence, diverse community, and vibrant campus life. First and foremost, be prepared to immerse yourself in a world-class learning environment where you can engage with leading experts in your field and participate in groundbreaking research.
Secondly, take advantage of the rich social and cultural experiences UQ has to offer, from joining student clubs to exploring the beautiful city of Brisbane.
Lastly, don't hesitate to seek support from the university's various resources, including academic advisors, career services, and counseling. Your time at UQ can be truly transformative, so approach it with an open mind, a thirst for knowledge, and a willingness to explore beyond your comfort zone. It's a journey that can shape your future in profound ways.
Profile published 2023.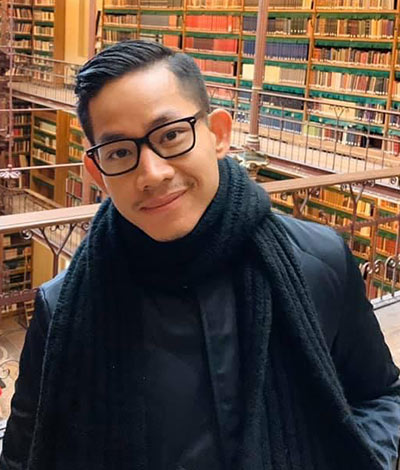 Ko Ko Lwin
Job title
Environmental Compliance Specialist at Shive-Hattery Iowa City, USA
Qualifications
Master of Environmental Management (Environmental Management in Mining)