"I've come to appreciate my science degree gave me a unique lens to look at the world with. Critical thinking in a post-truth world has become a precious skill. Possessing scientific literacy is now more important than ever."
How did studying science at UQ help get you where you are today?
After graduating from science, I entered the film and television industry as a researcher. I worked exclusively in natural history films for the first decade of my career. My background in scientific field work gave me entry to the world of wildlife film making, where I'd research stories, set up field shoots and be the person who carried gear, set up remote camps and fixed whatever disaster was going wrong in the field. Over time, I was eventually given the opportunity to field direct shoots, and eventually I was able to pitch and make my own ideas, as a producer and director.
After a decade, I started to work in non-fiction films more broadly. Over the years, I've been able to make films about politics (Strong Female Lead), love and relationships (Love on the Spectrum, Better Date than Never), sex and power (See What You Made Me Do, Asking for It), as well as the work I do on climate and environment (Blue, After the Fires, Our Country, Magical Land of Oz).
In October 2023, I was awarded the UQ Vice-Chancellor's Alumni Excellence Award for exceptional achievement as a filmmaker, executive producer and social impact campaigner shining a light on conservation and the struggles of marginalised communities. It was wonderful to be recognised by my Alma Mater in this meaningful way and to be in such highly esteemed company.
What was the best part of your time at UQ?
Although I always wanted to pursue a career in film making, I chose to study science at UQ so I would have a unique perspective as a documentary film maker.
I was excited to be on such a beautiful campus with access to in depth field research. Being part of the Centre for Conservation Biology allowed me to travel to UQ field stations both in Western Queensland (Idalia) and on the Great Barrier Reef (Heron Island) to take part in ecological research.
I also loved the warm nights on campus, walking back from the Schonell Theatre under the moonlight and hearing the call of the Stone Curlews.
What kind of work do you do as part of your job?
Currently I oversee the creation of all non-fiction content for an Australian production company, Northern Pictures. This leadership role is incredibly varied and for the last decade has allowed me to supervise content creation for broadcast television and feature release as an executive producer and creator, as well as direct my own films.
My focus has been on pushing the creative boundaries of how we tell stories and over the last few years this has included documentary series, such as Love on the Spectrum (Netflix), See What You Made Me Do and Asking for It (SBS), and live event television such as Southern Ocean Live (ABC). I've also been working in the realm of immersive film, using emerging technologies and exploring new forms of storytelling for Australian Geographic.
Last year was rather monumental, as I won 4 Emmy awards and was recognised by the Producer's Guild of America for advancing the portrayal and employment of people with disabilities in media for my work on Love on the Spectrum.
What do you enjoy most about working in your field?
The crux of my work is to create change, truth tell and find unlikely heroes who challenge our perceptions. I'm privledged to be surrounded by inspiring people who make life interesting and whom I can learn from to stretch myself creatively, never sitting back and resting on my laurels.
Over the course of my career to date I've made more than 100 broadcast films for National Geographic, Discovery Channel, Animal Planet, ABC, SBS, BBC, Arte, History Channel and Netflix.
But my biggest pinch me moment to date was presenting to the General Assembly at the United Nations in New York at the inaugural Oceans Week summit back in 2017. Having studied marine science at UQ, it felt like a lifetime of passion carried me to that extraordinary moment.
What advice would you give to anyone starting their career?
When considering the path you take and your degree, think of impact and legacy. Will the work you do create noise, distraction, promote consumption, greed or inequality? Or will you make the world a better place through innovation, promoting understanding and empathy, contributing to solving some of the biggest challenges we face? You choose.
Profile published 2023.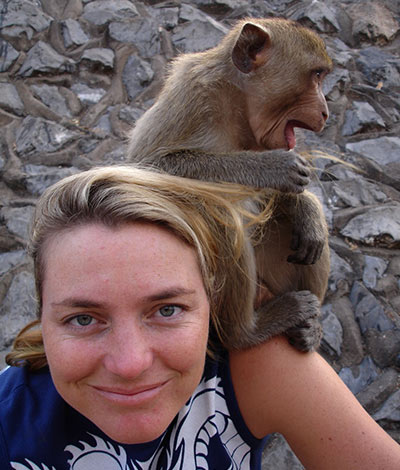 Karina Holden
Job title
Filmmaker, Executive Producer and Director, Sydney
Qualification
Graduate Diploma in Science