"From birds, snakes, lizards, rabbits, guinea pigs and ferrets, to spiders and fish, every day brings a new surprise!"
Why did you study veterinary science?
I chose UQ because of both the world-class veterinary faculty and the outstanding hockey program at The University of Queensland Hockey Club. Before coming to veterinary school I played hockey for the New Zealand Blacksticks and so chose the UQ Hockey Club to continue playing hockey at a high level throughout my degree.
What do you love about being a Vet?
I love the variety that I see each day. It is very rare for me to get to the end of my day of consultations and not have seen more than five species of animals. I always have to keep learning!
What does a typical day in your job look like?
6am: Wake up, shower and head to work. Eat my cereal at my desk while doing business management and catching up on paperwork before my clinical day gets started.
8.30am: I begin hospital rounds and treatments
9am – midday: Clinical consultations
Midday – 3pm: Surgery
3pm – 5pm or 7pm: More clinical consultations
7pm onwards: I will then sit down to write my records from the day and return any phone calls received while in consultation. I normally grab dinner on my way home before settling in to read journal articles or books about any difficult hospital cases.
This is my routine for 5 or 6 days of the week, but I do get the opportunity to have some down time. Every second weekend I have a three day weekend and will try and get out of Sydney. I enjoy fossicking for sapphires or gold, and camping.
I travel to conferences and to give presentations at various meetings and events throughout the year and really enjoy the opportunity to catch up with other exotics veterinarians both in Australia and overseas.
What was the best part of your time at UQ?
The brand new, state of the art facilities on the Gatton Campus and the affordable cost of living out there were great. Vet faculty Smokos and the annual Vet Ball were the social calendar highlights, and so was playing in the local Gatton Futsal competition. We had a lot of fun at vet school.
Academic highlights included being selected to attend the Youth Leadership Forum in Brisbane in 2010 and being awarded pathology, small animal medicine and research awards in final year.
The professional highlight of my time at UQ was attending the International Association of Avian Veterinarians conference in Florida where I presented my final year research project covering the virus that we discovered in budgerigars in New Zealand in 2012.
What advice do you have for someone deciding how to start their career?
Find your passion and pursue it, and live the university life to its fullest! It is the greatest time and you will make the most wonderful friends if you immerse yourself in it.
Profile published 2016, updated 2023.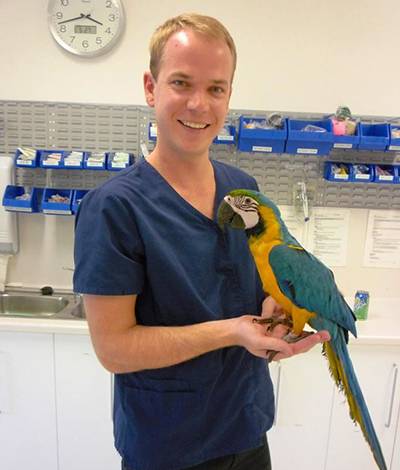 Hamish Baron
Job title
Senior Veterinarian
Avian Reptile and Exotic Pet Hospital, University of Sydney
Salary range
Minimum: $60,000
Maximum: $95,000
Average: $75,000
Qualification
Bachelor of Veterinary Science (Honours)