"It feels meaningful to know that whatever area of water planning/mangement I'm working on, I'm making a tangible difference."
Why did you study Geographical Science at UQ?
The earth and environmental sciences are very strong at UQ so it made sense to be learning from expert academics at a beautiful campus. I was really drawn to the beauty of the UQ St Lucia campus set amongst the lakes and sandstone buildings.
Studying geographical science at UQ allowed me to explore many different perspectives and techniques for approaching challenges related to people, place and environment. These varied and flexible approaches are a really useful addition to my team because in our work we need to consider many different impacts (natural or human-induced) on ecosystems at varying scales.
My GIS expertise is particularly useful in my role since mapping and spatial analysis is highly integrated with the ecological assessments and research that I conduct at work.
What was the best part of your time at UQ?
Fieldwork and field courses were a big highlight for me - particularly a geomorphology and environmental hazards trip I did to New Zealand at the start of my second year. It was the first time I'd been able to learn so closely and personally from my lecturers. Being able to physically see and interact with the landforms and concepts we were learning about was incredibly special and such a rich experience.
Presenting my undergraduate research at the UQ Science Undergraduate Research Conference was also a really memorable experience. I'd worked really hard in my second and third year of study to conduct lab research under the supervision of an academic for an industry partner that, if successful, was going to be considered for use in their business practices. I'd learned so much from that experience so having the opportunity to present those research outcomes to my peers was an incredibly proud moment for me.
Activities like volunteering and social groups were really important to me while I was studying at UQ and my experience wouldn't have been half as good without them. I was a Science Leader & Mentor, part of the Academic Advocacy Network and a SEES Student Representative Committee (Chair) as well as a member of several student societies.
What kind of work do you do as part of your job?
I am a scientist in Water Planning Ecology for the Queensland Department of Environment and Science, based at the EcoSciences Precinct in Brisbane.
I work within the ecological research section of my team furthering our understanding of freshwater systems and processes so we can produce high quality ecological assessments for the government. This information is used by policy makers to implement Queensland's water planning legislation.
My core responsibilities often include: gathering, analysing and presenting spatial data for research projects organising and undertaking fieldwork to sample (eg. water, fish, invertebrates, environmental DNA) reviewing literature and surveys from our collaborators and contributing to the reporting of our research studies.
What is the best part of your job?
I really enjoy the variety in my job and it feels meaningful to know that whatever area I'm working on, I'm making a tangible difference.
My team have scope to research many different attributes of freshwater environments anywhere in Queensland so sometimes we'll be collecting water samples on Minjerribah (North Stradbroke Island), reporting on the risk of invasive aquatic plants and pest fish in the Mackay-Whitsundays region or analysing spatial data on strontium isotopes in the Murray-Darling Basin.
I want to continue to work on projects that improve our understanding of environment-people interactions, especially in the water planning/management space. Water is such a critical resource for our communities and our environments so there is a lot of important research and work that needs to be done to better understand and allocate it in a way that will adequately meet the needs of people without compromising the health of the environment.
What advice would you offer to anyone thinking about studying at UQ?
Deciding what and where to study can be an incredibly complex and sometimes overwhelming decision. For anyone considering studying at UQ I'd say the wide variety and flexibilities of degrees/majors/courses on offer is a huge benefit because you can easily shift direction in your studies as you work out what you're most interested in. Work out what matters to you and what you what to get out of your university experience and go for it - if that includes a fun social life then put yourself out there. Join clubs and networks and go to random events that you see advertised around campus.
Seeking out those experiences (and there are so many on offer at UQ) will help you to grow in a way that really nicely complements the academic coursework you'll do at uni.
It's also worth working out what you don't value or consider important. There's a lot on offer at University and it's okay to say no to some activities if you don't have the time or mental energy. Be kind to yourself, try not to compare yourself to others and learn when you need to take a break. Studying can be stressful and your well-being is important. There's a whole world out there waiting for you once you've finished your degree, you don't want to be too burnt out to use it.
Profile published 2023.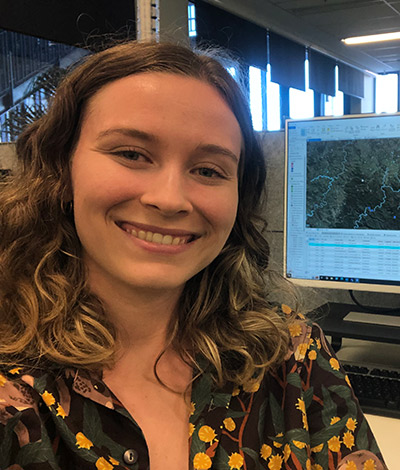 Giselle Pickering
Job title
Scientist (Water Planning Ecology)
Queensland Department of Environment and Science
Qualifications
Bachelor of Science (Geographical Science)
Bachelor of Science (Honours)