"My Honours year at UQ has completely shaped my future career."
Why did you study Biomedical Science?
I want to translate scientific evidence into clinical practice, to make a difference to health in Australia. In my PhD, I am trying to raise awareness for the silent epidemic of suffering caused by chronic pain. Chronic pain affects 1 in 5 Australians, is the third most costly health condition, and remains the most neglected and underfunded of all major health conditions.
What has been the highlight of your career so far?
I was lucky enough to be chosen as the Judges' Choice winner in The Australian Women's Weekly Qantas Women of the Future Award, which recognises people who are pursuing a dream to help others.
 As a young female scientist, this scholarship will provide me with the opportunity to form collaborations that will progress my research into chronic pain, and to examine society's reliance on prescription medications.
What did you enjoy most about your time at UQ?
The three most memorable experiences while studying at UQ were:
The opportunity to do an exchange/Abroad program, which was a life changing experience that has allowed me to grow as a person both academically, professionally and personally.
The use of the Gross Anatomy Labs while studying neuroanatomy. This helped academically and professionally.
My incredible Honours research year.  I was able to complete my honours year alongside an occupational therapist in chronic pain, and had an outstanding team behind me.
What advice do you have for someone deciding how to start their career?
Firstly, if you are looking to study in the field of Science (e.g. Biomedical Science) then UQ is certainly the place for you! You'll find a wealth of high calibre professionals at UQ - both within biomedical science and beyond.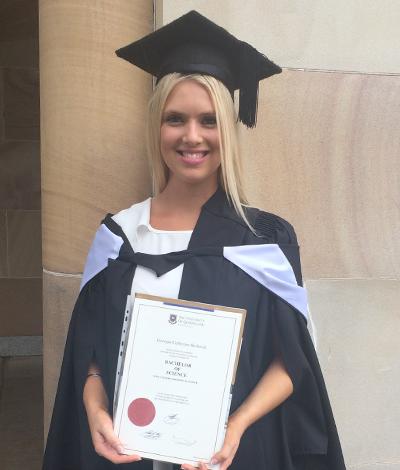 Job title
Medical Researcher
Veteran Mental Health Initiative, Gallipoli Medical Research Foundation
Qualifications
Bachelor of Science (Honours) (Biomedical Science) (Pharmacology)
Salary range
PhD Scholarships available – visit uq.edu.au/scholarships for more information
Start your career:
Related study areas