"I enjoy helping people, being out and about, and the science and medicine of my work."
Why did you study veterinary science?
I've always loved animals. When I started studying veterinary science, it was like finding the "glove that fitted" and attending UQ was akin to "finding my tribe".
What was the best part of your time at UQ?
I loved the camaraderie, great teaching staff, being with like-minded people, making friends, learning things that felt relevant, not working, but studying and learning each day.
Variety, challenge, academia.
What kind of things do you do in your current job?
I am the practice owner and principle vet. My assistant (husband) is my driver, and we are a mobile service. We spend the day out and about doing vet work.
I wake up at about 6:30am, start appointments around 8am, and we are home between 6pm and 8pm.
I try to swim a couple of times a week. If we have a call near the ocean I will take the opportunity to have a swim. Each day is entirely different. On Thursdays I have surgery and go to the clinic where I do surgical procedures all day long.
What advice would you give to anyone starting their career?
Make the most of your studies and live life to the fullest. These will be the best years of your life!
Be generous to your fellow classmates, study hard, participate and enjoy.
Profile published 2016, updated 2023.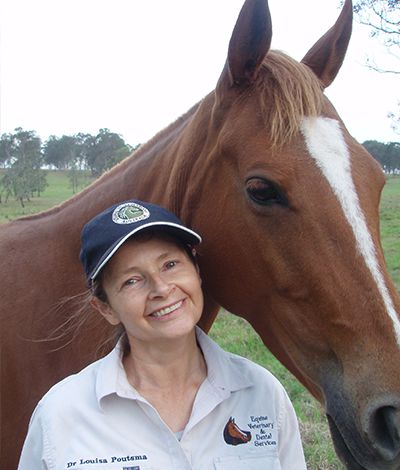 Dr Louisa Poutsma
Job title
Veterinarian
Mobile Vet Practice
Swan Creek, NSW
Salary range
Minimum: $60,000
Maximum: $95,000
Average: $75,000
Qualification
Bachelor of Veterinary Science (Honours)