"I'm really proud that I was able to produce a thesis that I think is just as relevant to a productivity focused farmer as it is a conservationist."
How did studying a UQ Science degree help get you where you are today?
Firstly, it exposed me to the global nature of scientific research and collaboration which fuelled my aspiration to work and travel abroad (which I'm currently doing), as well study abroad in future too (which I'm working towards).
My UQ degree has opened up opportunities for me able to conduct field work on remote cattle properties throughout Queensland for the Queensland Government Department of Agriculture and Fisheries as well as for an ecological consulting company.
Next year I plan to return to UQ to begin my PhD which will focus on improving biodiversity and conservation outcomes on privately owned agricultural land.
What was the best part of your time at UQ?
I especially enjoyed the moments out in the field conducting research for my Honours project or doing field work as part of courses.
One of my favourite UQ moments was sitting on the jetty at the UQ Heron Island Research Station, watching the sun set after going for a snorkel over the beautiful coral reef and swimming with some turtles. It really was a pinch yourself moment and I thought it was incredibly cool that I was there for a university course!
During my Honours year I was able to pursue my interest in finding low-cost strategies to conserve biodiversity on farms at the smallest cost to agricultural productivity. I got to camp out on remote properties, collaborate with government and non-government organisations and do hands on farm work with extension staff and graziers.
Not only did this experience provide confirmation that scientific research and extension was something I enjoy and want to continue pursuing, but it also made me consider wide-ranging perspectives on complex issues with those that have the ability to enact change.
In the end, I'm really proud that I was able to produce a thesis that I think is just as relevant to a productivity focused farmer as it is a conservationist. I also got to present my Honours research at a few different conferences, which was a wonderful opportunity to network with people in my field, and it meant that I got the opportunity to travel to some pretty cool places too!
That last year of my degree really helped me to work out whether I was going in the right direction, which is something that I appreciate.
What kind of work do you do as part of your job?
I'm currently undertaking a work-and-travel holiday in Germany, working on different farms across the country to learn about sustainable agriculture in a European context.
Working on the farms has meant I've been responsible for animal care and handling, tractor maintenance, farm operations and milking. It has been a unique opportunity to see how agricultural operations work first hand and the issues that farmers deal with on a day-to-day basis. The experiences I've had, the insights I've gained and the industry and academic connections I've made during this trip will be valuble for my PhD.
What is the best part of your job?
Working abroad has given me fantastic opportunities to travel throughout Europe, and to make networks with people who I can work with in the future. Also, doing research in the agriculture/ecology field has meant a lot of time spent doing field-work, which is something I really enjoy. You make really wonderful connections with your colleagues, and some of the wildlife you just happen to stumble across can make things very exciting!
What advice would you offer to anyone thinking about studying at UQ?
Try and get yourself involved with extra-curricular activities that get you among students from different areas of study across the uni.
Profile published 2023.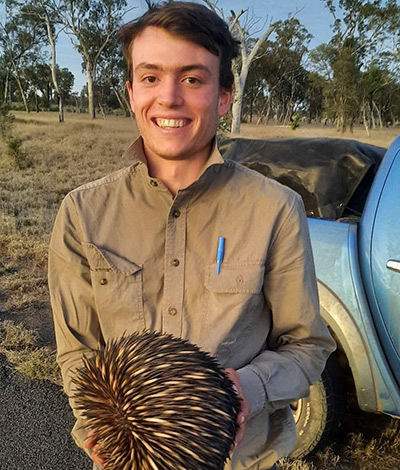 Brodie Crouch
Job title
Currently undertaking a work-and-travel gap year in Germany
Qualification
Bachelor of Advanced Science (Honours) (Geographical Science)