"My degree gave me a solid background in environmental processes and issues as well as an in-depth understanding of the need for rigour in data collection and analysis."
Why did you study a Bachelor of Science at UQ?
I chose to study at UQ because is regarded as the best university in Brisbane for environmental sciences.
My course work had a focus in geographical information systems, remote sensing, and paleo-environmental studies which gave me a solid background in environmental processes and issues as well as an in-depth understanding of the need for rigour in data collection and analysis.
Prior to studying at UQ, I had completed my Cert III in Electrotechnology and was working as a qualified electrician in the construction industry.
What was the best part of your time at UQ?
I enjoyed the opportunity to meet lots of interesting people from different walks of life, with different interests and experiences from my own.
The challenge that went into completing my Honours year was incredibly rewarding. I got to contribute to a paleo-oceanography project which aimed to explore a distinct change in the pacing of Earth's orbitally driven glacial cycles. As part of the project I undertook a literature review, statistical analysis in R software and lab work in isotopic geochemistry.
Through the Schmidt Ocean Insittute, I got the opportunity to spend time on the scientific research vessel RV Falkor exploring the deep blue waters of the southern Great Barrier Reef to map undersea features that formed during the last Ice Age in order to help scientists better understand today's rapidly changing reef environment.
What kind of work do you do as part of your job?
I'm currently a Technical Scientist on the Water Quality Monitoring team at the Queensland Department of Environment and Science. Prior to my current role, I worked in the Air Quality Monitoring team as a Graduate Environmental Officer.
Primarily, the Water Quality Monitoring team is focused on capturing data related to agricultural run-off in Great Barrier Reef catchments.
I'm responsible for the maintenance of the sensor and sampler network, that monitors sediments, nutrients and pesticides that enter catchments that feed into the Great Barrier Reef. This includes sensors for measuring nitrate and sediment, auto sampling fridges, scientific loggers and more. In addition to this I also monitor the web portal that stores all of our collected data, to ensure equipment is working as intended.
My goal is to increase my understanding and learning in my current role, while also seeking opportunities to branch out into related areas around data capture and analysis.
I'm currently contributing to the Great Barrier Reef Catchment Loads Monitoring Program and the South-East Queensland Catchment Loads Monitoring Program. Both programs are designed to determine loads of contaminants in Queensland waterways. The programs aim to assist the increased monitoring and reporting roles of the Department as part of the Reef Water Quality Protection Plan (Reef Plan) and South-East Queensland Healthy Waterways initiatives.
What is the best part of your job?
My current job provides a lot of variety, in that sometimes I work in an office, sometimes in a workshop and sometimes out in the field in North Queensland. There's also a culture of encouraging learning and innovation at my work, which I value and appreciate.
I also get the opportunity to work in remote parts of the state which is really interesting, and quite challenging at times.
Profile published 2023.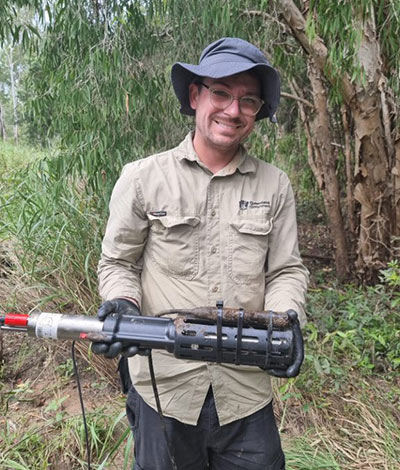 Ben Houseman
Job title
Scientist (Water Quality Monitoring), Queensland Department of Environment and Science
Qualifications
Bacehelor of Science (Honours)
Bachelor of Science (Geographical Science and Marine Geology)