"Campus life proved to be an incredible training ground, where I could push myself beyond my limits."
Why did you study biotechnology?
I first became interested in science when I attended the National Youth Science Forum while I was in high school. That was the first time I really saw people who were genuinely excited about science! I was hooked.
UQ's international ranking and reputation for world-acclaimed researchers in life sciences along with excellent campus facilities placed UQ at the top of my preference list.
Biotech is an amazing field to be a part of, because the opportunities for new technologies and development are almost unlimited.
What was the best part of your time at UQ?
Life at UQ granted me a wide exposure to international students – their culture, food and languages. I was also lucky enough to meet some amazing students from across the globe, resulting in some amazing friendships.
My years of university have been the most adventurous by far! This is the phase of life where I found the maximum amount of freedom, time and opportunities being presented to me, and I had to learn to choose and prioritise to maximise outcomes in the various roles.
I've built skills like leadership, time management, networking and communication.
What does a typical day in your job look like?
Each day is different – which is something I love about my job!
Some days, I meet with scientists from different universities, start ups and other organisations to hear about the new methods and products they are working on. I attend conferences in Australia, Singapore, and the United States of America, and network with researchers as well as physicians to understand what kinds of products are needed.
My team also regularly hosts teams of scientists at 'Sandpit days', where they come to Cook Medical for a series of workshops and meetings with our New Technology staff to brainstorm solutions and products.
What advice do you have for someone deciding how to start their career?
Challenge yourself to push past your comfort zones
Be open to various opportunities
Stay inspired and learn to dream big
Finally, do not settle for anything less than what you've dreamt of.
Profile published 2016, updated 2023.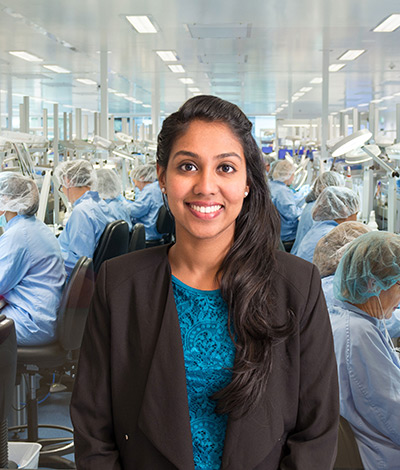 Ann Damien
Job title
New Technology Associate
Asia-Pacific New Technologies Team (ANTT), Cook Medical
Salary range
Minimum: $50,000
Maximum: $200,000
Average: $70,000
Qualification
Bachelor of Biotechnology (Honours) (Molecular Science and Innovation Management)