Why did you study Applied Science, majoring in Equine Science?
I chose to study at UQ as they were the only institution in South East Queensland that offered Equine Science! I was unsure of what I wanted to do as a career but wanted to start my University studies so I chose a subject I already loved and was keen to learn more about - horses!
What kind of things do you do in your current job?
At Racing Queensland as a workplace educator, I am responsible for:
Delivery and Assessment of accredited vocational education programs
Preparation of resources ( e.g. handouts, Powerpoint presentations, assessment tasks, observationchecklists and third party reports)
Maintenance of course administration material
Distribution and collection of student evaluations
Compliance with the requirements and regulations of relevant legislation
Making students aware of the facilities the RTO provides
Performing workplace visits to trainees across qualifications to assess students
Student Inductions
 
I also work part time on the weekends, managing my own business, EquiFit QLD. I can assist to prevent muscle damage, improve range of motion and the general health of the horse. I continually try to add additional services to my business and for 2016 this includes Saddle Fitting Assessments, Equine Body Articulation and Canine Body Articulation.
How have your studies helped you in your career?
My UQ studies definitely assisted me to gain the position at Racing Queensland as a Workplace Educator as they allowed me to study to a higher or the same level than the subjects offered by Racing QLD.
With regards to my own business, EquiFit QLD, my studies at UQ have cemented my equine knowledge which has allowed me to continue study for my own business with ease. I also developed client relationships with a number of students while I was at UQ.
What's the best part of your job?
I love hearing feedback from my own clients about how great their horse has responded the treatment session. This is seen in how well they are moving and performing movements that they have never been able to quite maintain and sustain!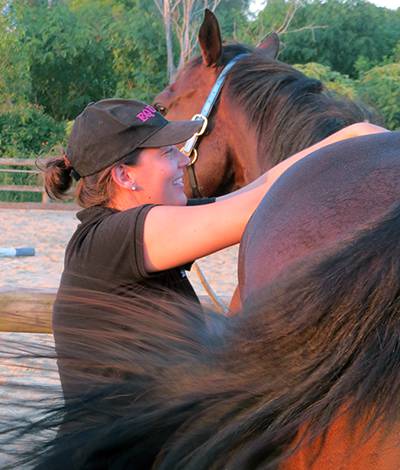 Job title
Workplace Educator, Racing Queensland
Self-employed, EquiFit (QLD)
Qualifications
Bachelor of Applied Science (Equine)
Salary range
Minimum: $40,000
Maximum: $100,000
Average: $70,000
Start your career:
Related study areas